Choosing the right olive oil when they all look the same and the label is the only available information leaves most people at a disadvantage. It is difficult to compare the taste of quality oils unless you have the opportunity to open several containers at the same time, not something a consumer usually does. At Olive 'n Vinnie's Market, the opportunity now exists to taste a wide-range of the freshest oils imported from 15 countries. We also offer more than 20 flavors of delicious flavored (fused and infused) oils. You can truly try before you buy!
Here is some valuable information from our olive oil supplier who imports more than one million gallons of the finest, freshest extra virgin olive oil every year.
The olive oil season begins in early October in the Northern Hemisphere and April in the Southern Hemisphere extending to late February in the Northern Hemisphere and June in the Southern Hemisphere.
Each producing country has a dominant variety or cultivar historically suited to its terrain and is representative of the general "style" of the country. These styles are often closely contested from region to region within a country. A reasonably experienced olive oil taster can pick out the dominant style or cultivar of each of the large producing olive oil countries. The dominant cultivars in Spain are the Picual, Hojiblanca, and Arbequina. Italy has the Coratina, Tunisia the Chemlali, Greece the Koroneiki, and Turkey favors the Ayvalik. Look for oils by variety as well as region and country. The number of high quality oils available from small regional mills is increasing daily as more consumers and producers wake up to the fantastic possibilities that exist.
There is no substitute for individual experience. Try as many extra virgin olive oils as you can. They represent extraordinary examples of unique quality and value impossible to duplicate in the traditional supermarket brands.
We needed to develop a new more practical understanding of olive oil that placed a greater emphasis on application and performance and less on appellation or domain. We focused on the discernible differences of oils in flavor, function, and durability by tasting and comparing the oils from different regions and countries without the benefit or handicap of knowing where the olive oils were produced. We found a treasure trove of styles and varieties unknown outside the local area where they were produced and reined supreme.
Over the last few years we have tasted and continue to taste on a daily basis, the best oils that we can find from Chile, Australia, Argentina, New Zealand, California, Cypress, Egypt, France, Greece, Israel, Italy, Lebanon, Mexico, Morocco, Portugal, Spain, Syria and Tunisia. We celebrate the diversity and difference in olive oil styles.
They continue to produce and import the finest conventional olive oil, organic olive oil and fused whole fruit citrus olive oils available. Olive 'n Vinnie's Market is the exclusive retailer of these amazing products in the area.
No products were found matching your selection.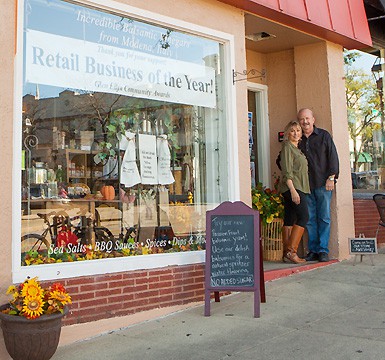 Family Owned Business in Glen Ellyn, IL
We offer the finest 100% Extra Virgin Olive Oils plus premium aged balsamics imported from Modena, Italy. Choose to sample from over 30 uniquely different olive oils which are cold/first-pressed from the finest olives harvested from around the world. Learn more about cooking with oils…

Owners Gary and Karen Evensen discovered their true passion for awesome olive oils and Balsamics many years ago. Former owners of a large supper club, their first Olive 'n Vinnie's was located within their restaurant. They have since opened a location in their hometown of Glen Ellyn. The enthusiasm from their local as well as online customers has been outstanding.

Our mobile app is designed to enhance our customers experience with loyalty, updates, event sign up and more.